Leather Pants
Book #2 of the Happy Pants Cafe Series
by Mimi Jean Pamfiloff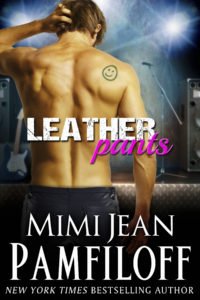 From New York Times Bestseller, Mimi Jean Pamfiloff, Comes Book #2 of The Happy Pants Cafe Series It Only Takes One Hot Rock Star To Ruin Your Life… The youngest woman to ever sit on the bench, the Honorable Sarah Rae Alma has busted her butt to get where she is. No fun. No distractions. And definitely no bad boys. In fact, she takes a certain pleasure in crushing their souls—yes, she has her reasons. So when rock-n-roll's most famous bad boy, the legendary Colton Young, enters her court, looking hotter than sin and smugger than hell, she's just itching to serve a little justice. But Sarah's about to make the biggest mistake of her life. And her fate will land squarely in the hands of the world's most notorious rock star rebel. Will he crush her? Or will he tempt her to take a walk on the wild side?
BUY NOW
Giveaway
a Rafflecopter giveaway
About the Author
MIMI JEAN PAMFILOFF is a USA Today and New York Times bestselling romance author. Although she obtained her MBA and worked for more than fifteen years in the corporate world, she believes that it's never too late to come out of the romance closet and follow your dream. Mimi lives with her Latin Lover hubby, two pirates-in-training (their boys), and the rat terrier duo, Snowflake and Mini Me, in Arizona. She hopes to make you laugh when you need it most and continues to pray daily that leather pants will make a big comeback for men Sign up for Mimi's mailing list for giveaways and new release news!
Other books in the series
Happy Pants Cafe (Series Prequel)

BUY LINKS
Tailored for Trouble (Book #1)

BUY LINKS
REVIEW:
Colton likes to follow rules at times, well basically his rule, "I wrote a song for you. And by musician law, that makes you my property." Colt has an ego, "besides, I would never name my p***s anything that included the word little. That would be misleading." This book was filled with so much humor, that it was a good time to read.